Breaking new records with Landa
How many sheets can a Landa S10P printing press print in 1 month? We will answer this question in March 2022! We want to know everything. So not only how many prints, but also how many different types of paper, how many different orders. We will even measure and share the waste. This month we will provide regular updates to keep everyone informed.
Reclameland Vlog | #11 How is it going now?
We have now been on the road for about 10 working days with our record attempt. But what kind of press do we actually use for a new record? And the question of questions: what is the status? Wouter tells you all about it in this video.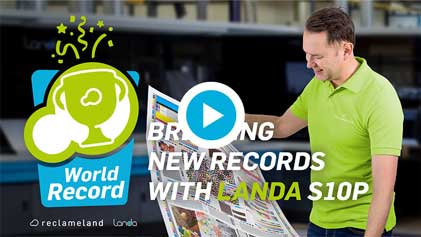 Printed flats
In the first 10 working days of March 2022, we produced over 498,000 prints.
The second week we had to deal with operator outages.
In the third week we pushed well above target daily. This more than compensates for the dropout of week 2.
In the fourth week we produced almost 100,000 B1 prints on Wednesday. For comparison, that is 440,000+ SRA3 sheets printed on one side.
In the fifth and final week our focus will be on process improvement around the Landa.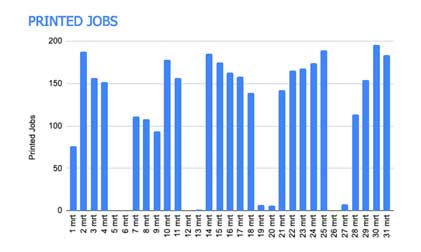 Printed jobs
The big advantage of a digital press is that you can process many orders. With us, 1 printed job can consist of several orders of the same substrate, which are collected on the printing sheet. For example, 1 printed job can contain 100 different orders for business cards. Or, for example, a magazine with 16 different pages.
The printed jobs that we show here are therefore a collection of orders that are arranged on 1 printing sheet.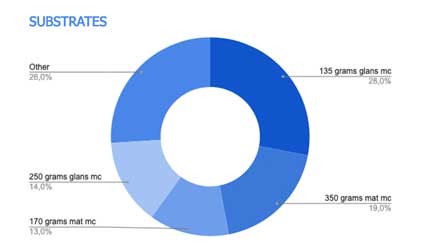 Substrates
The Landa S10P has no restrictions in terms of paper types. Even if we want to print on kitchen paper, it should be possible.
Our runners are all coated papers, others include a number of uncoated papers, such as:
90 grams stationery
90 grams biotop
300 grams natural cardboard
300 grams postcard cardboard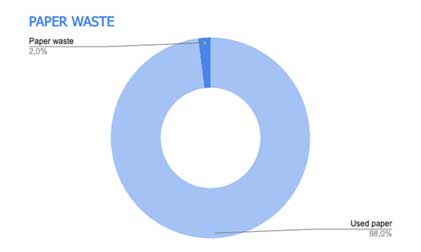 Paper waste
Printing with nano technology results in hardly any paper loss. The quality is good with every sheet. Also, a Landa press does not need any 'insert' to achieve colour.
Nevertheless, there is waste, for example due to:
cleaning pages
nozzle check pages
Unparalleled sharpness and color
Nano-ink printing offers unprecedented sharpness and color uniformity compared to other digital or offset technologies. The three images below show microscopic photos of the different technologies. The difference in the sharpness of the print is clearly shown here.

Staggering numbers
The Landa S10P press is five times faster than digital presses. An impressive 6,500 sheets are printed per hour. And that number will only increase in the near future. The design is formed on the image conveyor belt with nano ink. Because this belt is heated, the water evaporates from the ink and a polymeric film remains. This film of only 500 nanometers is then applied to the paper and adheres evenly to the material. By using dry ink, the printing sheet can be further processed directly into, for example, flyers, leaflets or brochures.
With this printing press, we fill the gap of print runs that are too large for digital printing and too small for offset printing. Printing with nanotechnology combines the advantages of both two worlds. For digital printing, the versatility and production of shorter runs along with the productivity and low cost per page of offset printing come together. In this way, the printed matter can be classified even more efficiently according to the best printing technique. As a result, the offset presses can be used for what they are best at: printing the really large print runs.
Durability
The quality of the printing is not the only reason to purchase the Landa S10P press. Sustainability is also a very important aspect. For example, no printing plates are used in the printing process, as is still required in offset printing. This quickly saves several tons of aluminum per year. In addition, the Landa does not need any inserts to achieve the correct (color) settings. Per order, the turnover is easily 50 sheets. For paper, too, this can quickly lead to a saving of several tons per year. This combination of the very best quality printing and sustainable printing at the same time is something no one can copy.
Nanography comparison with digital and offset
| | Digital | Nanography | Offset |
| --- | --- | --- | --- |
| Printing format | 50 x 70 cm | 70 x 100 cm | 70 x 100 cm |
| Number of sheets lost per order | No loss of sheets | No loss of sheets | 50 sheets |
| Print speed | 2.250 | 6.500 | 13.000 |
| Personalized Printing | | | |
| Suitable for runs under 500 pieces | | | |
| Suitable for runs of up to 10,000 pieces | | | |
| Suitable for runs above 10,000 pieces | | | |
| No aluminum pressure plates required | | | |
What is nanotechnology?
The nanotechnology with which the Landa S10P press works differs from digital printing and offset printing in a number of ways. The latter two techniques use liquid ink. The ink partially soaks into the paper. This affects the sharpness and brightness of the color. Nanotechnology uses 'dry' inks that end up on the paper. Because the colors do not soak into the paper, the edges will become even sharper and the colors even brighter.
Conclusion
The printed matter that comes from our new Landa press is unlike any other printed matter. Razor-sharp printing and vibrant colors that pop off the paper! There's no point in looking any further, because it doesn't get any better than this.
Specifications of the Landa S10P
| | |
| --- | --- |
| Print speed | 6500 sheets per hour |
| Number of colours | 4 to 8 colours |
| Resolution | 1200 dpi |
| Maximum paper size | 750 x 1050 mm |
| Maximum printable area | 730 x 1032 mm |
| Press length | 14,1 meters |
| Press width | 4,8 meters |
| Height press | 2,4 meters |
| Press weight | 22.000 KG |